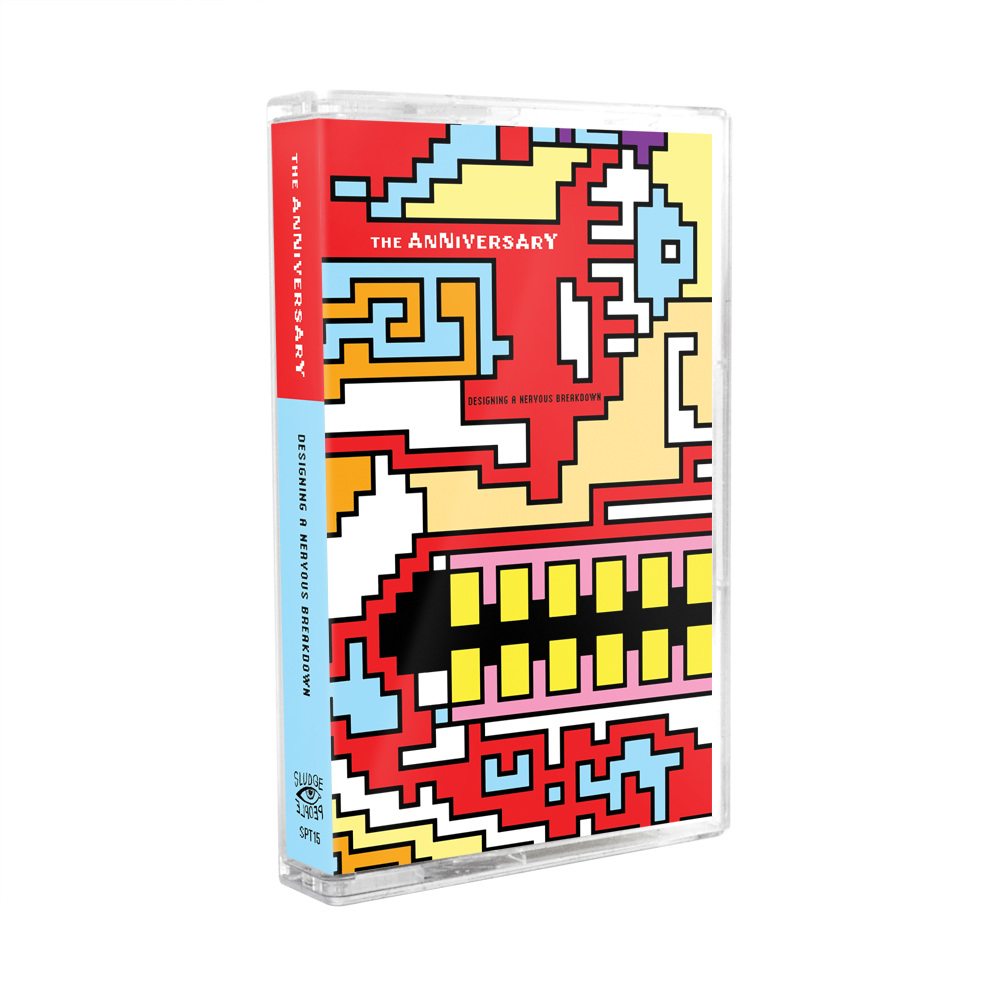 The Anniversary
Designing a Nervous Breakdown
(SPT15 – Cassette)
75 copies pressed on yellow shell (label exclusive).
75 copies pressed on blue shell (band exclusive).
SIDE A:
1. The Heart Is a Lonely Hunter
2. All Things Ordinary (WATCH)
3. Perfectly
4. The D in Detroit
5. Emma Discovery
SIDE B:
1. Shu Shubat
2. Till We Earned a Holiday
3. Without Panasos
4. Hart Crane
5. Outro in No Minor
In honor of 20 years of Designing a Nervous Breakdown, SLUDGE PEOPLE is proud to present the classic album from The Anniversary for the first time on cassette!
While still in high school, guitarists Josh Berwanger and Justin Roelofs began to lay out plans for a band that would eventually become The Anniversary. It was the familiar love of new wave rock bands and synth-obsessed pop groups like the Cars and Devo that originally inspired them to form a band in the winter of 1996. Both boys had previously played in rival punk bands around the Overland Park and Kansas City areas before starting to write songs together and with (keyboardist/vocalist) Adrianne Verhoeven. Playing a limited number of shows and calling themselves The Broadcast, the band was having a hard time finding permanent members to fill the always-changing rhythm section. A few months after Justin, Josh and Adrianne had started their freshman year of college in the fall of 1997, bassist James David and drummer Christian Jankowski joined the band, completing the current lineup. With the arrival of the new rhythm section, the band also changed its name to The Anniversary, and a more layered and developed sound began to emerge.
Throughout the rest of 1998, The Anniversary continued to perform in the Midwest region alongside other fine rock bands such as Superchunk, Braid, Helium, Kent and The Pulsars. The band also continued to make basement recordings and play shows around the Lawrence area. In the spring of 1999 that both Rob Pope and Matt Pryor of The Get Up Kids approached The Anniversary about releasing a full-length album on their own newly self-created record label, Heroes & Villains/Vagrant Records.
In July of 1999, The Anniversary headed back up to Chicago in order to record their first full-length album at Kingsize Sound Lab with Dave Trumfio. Dave and The Anniversary sweated out the hottest part of the Summer in the studio, shaping the ten tracks that would eventually appear on Designing a Nervous Breakdown. With adequate time to experiment sonically during the sessions, the songs for Designing a Nervous Breakdown were tackled one at a time.
Released: January 24th, 2020

SEE ALSO:
SPT2 Berwanger – Strange Stains (Cassette)
SPT10 Radar State – Strays (Cassette)
SPT11 Berwanger – Watching a Garden Die (Cassette)
SPT24 Berwanger – And the Star Invaders (Cassette)